Site Plan or Block Plan At a Glance
Normal Scales: 1:200 and 1:500
Paper Size: A4 or A3
Coverage: 36m x 36m or larger
File Type: PDF or Printed copies
Must include: North Arrow, Scale, Licence Number
Colour Format: Colour or Black and White
Should show entire development site 
What is a Site Plan?
All planning applications* need site plan (also known as a block plan) which shows the development in detail and a site location plan (also known as a location plan) which shows the proposal in its surrounding context. These plans enable the local planning authority (LPA) to identify the land to which the application refers to and should be based on an up-to-date Ordnance Survey map.
For a list of other reasons you may need a site plan please see Applications that Require a Site or Block Plan
This guide outlines what Site Plan you must submit with your application. You can create and buy the plan you need from us and attach this to your online application. If you are posting your application, you will need to send 4 copies of your Site Plan.
Help to Create your Site Plan 
Please read through the following information to ensure you select the Block Plan you need. If you need any help creating your Site Plan please give us a call on our helpline 01856 898 022.
Requirements for your Site Plan
The site plan (also called a "block plan") should be drawn at an identified standard metric scale - this is normally 1:200 or 1:500. It should show the proposed development in relation to the site boundaries and other existing buildings on the site, with dimensions specified including those to the boundaries. It should also show the direction of North.
It should also include the following – unless they would NOT influence or be affected by the proposed development:
All buildings, roads and footpaths on land adjoining the site including access arrangements.
All public rights of way crossing or adjoining the site.
The position of all trees on the site, and those on adjacent land.
The extent and the type of any hard surfacing.
The boundary treatment including walls or fencing where this is proposed.
What Maps are used for Site Plans?
Your Site Plan needs to be based on up to date accurate mapping. We offer Ordnance Survey's Mastermap® data as the basis for all our Site / Block plans as we believe this is the best mapping available of Great Britain. Due to the very high quality of their data we can guarantee this will be accepted by your planning department.
Here's what Ordnance Survey say about their Mastermap® Database
"It is a continually updated database, containing 450 million geographic features found in the real world..." read more
All of our Site / Block plans are guaranteed to meet your council's requirements for planning applications.
There are a number of other applications you may need a site plan for, please see our applications that require a site plan page for more details and call us if you need further details.
How Much will the Site Plan cost?
You can create your Site Plan yourself online which can cost as little as £8.50 + VAT for the pdf. Some companies do charge more than this so it does pay to shop around.
Bear in mind that if you buy from one of the Suppliers that pay to advertise on the Planning Portal your Site Plan will cost more, however it is exactly the same map as provided by all the Ordnance Survey licensed partners.
If you have your architect create your plan you will also need to pay their fees as well.
Create your Site Plan yourself in Minutes
Enter your postcode, you'll see a preview of your map and you'll be able to add the outlines you need. We will format your site plan as a pdf and send it to you instantly.
What format will my Site Plan be?
Site Plans are normally provided in PDF or jpeg format. We also offer Site or Block plans in MS Word format, to allow you to edit or add extra annotations as needed.
Submitting Paper Copies of Site Plan
You can submit your site plan to your council in hard copy as paper documents. It is often easier to mark up your annotations on the paper document. 
When ordering your site or block plan some companies will also sell you printed copies of your map, but beware this can cost as much as the map itself again!
Printing Your Site Plan at Home
Under the licence terms of your Ordnance Survey Site Plan you can print your map at home, but only 1 copy. However, most councils will require at least 3 copies of your site plan. It is best to order any printed copies you need from your map supplier.
If you need printed copies of your site plan please let us know at the time of ordering and we will send you out 6 free paper copies, you only pay for the P&P.
Diagram of Site or Block Plan
Please review our diagram of a Site Plan. This shows the necessary elements of your Site Plan or Block Plan.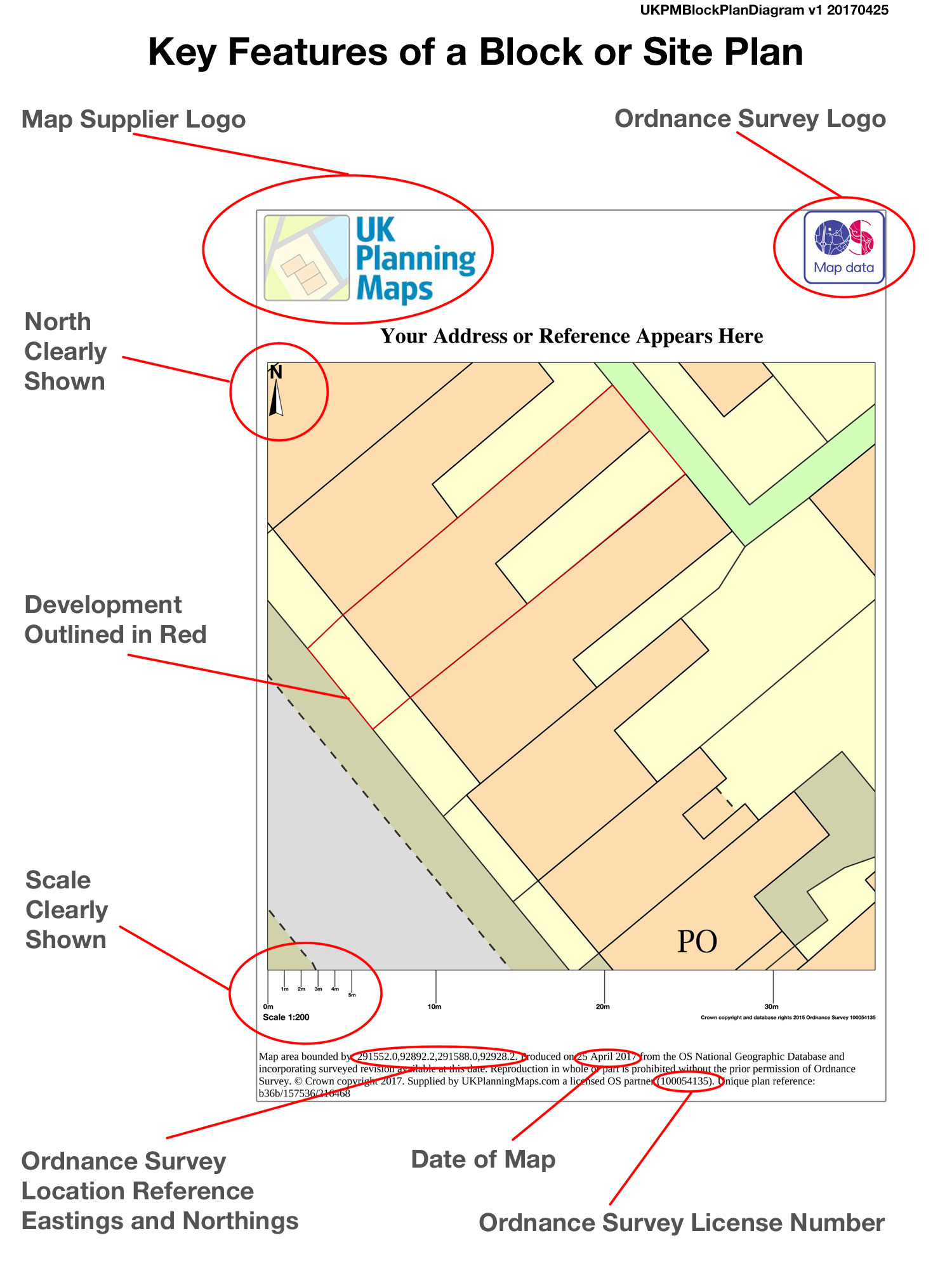 Where can you get more help?
Our Guide to the Planning Process