Site Location Plan At a Glance
Normal Scales: 1:1,250 and 1:2,500
Paper Size: A4 or A3
Coverage: Urban 4 hectares, Rural 16 hectares
File Type: PDF or Printed copies
Must include: North Arrow, Scale, Licence Number
Colour Format: Black and White or Colour
Should show entire property and normally 1 or 2 named roads
What is a Site Location Plan?
All planning applications* need a site location plan (also known as a location plan) which shows the proposal in its surrounding context and a block plan (also known as a site plan) which shows the development in more detail.
These plans enable the local planning authority (LPA) to identify the land to which the application refers to and should be based on an up-to-date Ordnance Survey map. This guide outlines what plans you must submit with your application. You can create and buy both sets of plans from Stanfords and attach them to your online application. If you are posting your application, three copies plus the original are required.
Site location plan:
Should be at an identified standard metric scale (typically 1:1250 or 1:2500 for larger sites) and should show the direction North.
It should be scaled to fit on either A4 or A3 paper
Show sufficient roads and/or buildings on land adjoining the application site
Show application site boundary and all land necessary to carry out the proposed
development i.e. land required for access to the site from the road, outlined in red
A blue line should be drawn around any other land owned by the applicant, close to or
adjoining the application site.
*This guidance is based on the criteria set out in the Government guidance document Guidance on information requirements and validation. Please note that other plans may be requested by your LPA as part of its local level requirements.
What Maps are used for Site Location Plans?
Your council will require up to date high quality mapping. Along with most other providers we offer Location Plans based on Ordnance Survey Matermap® data. As the National Mapping Agency of Great Britain their coverage is unrivalled and it's guaranteed to be accepted by your planning department.
All of our Site Location plans are guaranteed to meet your council's requirements for planning applications.
What does the Site Location Plan need to show?
It should show the application site boundary and all land necessary to carry out the proposed development i.e. land required for access to the site from the road. In practice this often means your house and it's garden front and back to the road. Many Councils ask for your Location Plan to show 2 named roads to enable them to locate the development.
You need to mark out the boundary of your application site in red. If you own other land nearby this should be outlined in blue.
What File Type are you required to submit?
You will need to upload at PDF if you are submitting your application online via the planning portal. If you are submitting paper copies of your application you can order the PDF with paper copies.
It's important not to print your PDF at home, as every paper copy of the map should be licensed. Please order the paper copies with your map to ensure you are using licensed copies.
How Much will the Site Location Plan cost?
You can create your Site Location Plan yourself online which can cost as little as £13.00 + VAT for the pdf. Some companies do charge more than this so it does pay to shop around.
Bear in mind that if you buy from one of the Suppliers that pay to advertise on the Planning Portal your map will cost more, however it is exactly the same map as provided by all the Ordnance Survey licensed partners.
If you have your architect create your plan you will also need to pay their fees as well.
Diagram of Site Location Plan
Please review our diagram of a Site Location Plan. This shows the necessary elements of your Site Location Plan.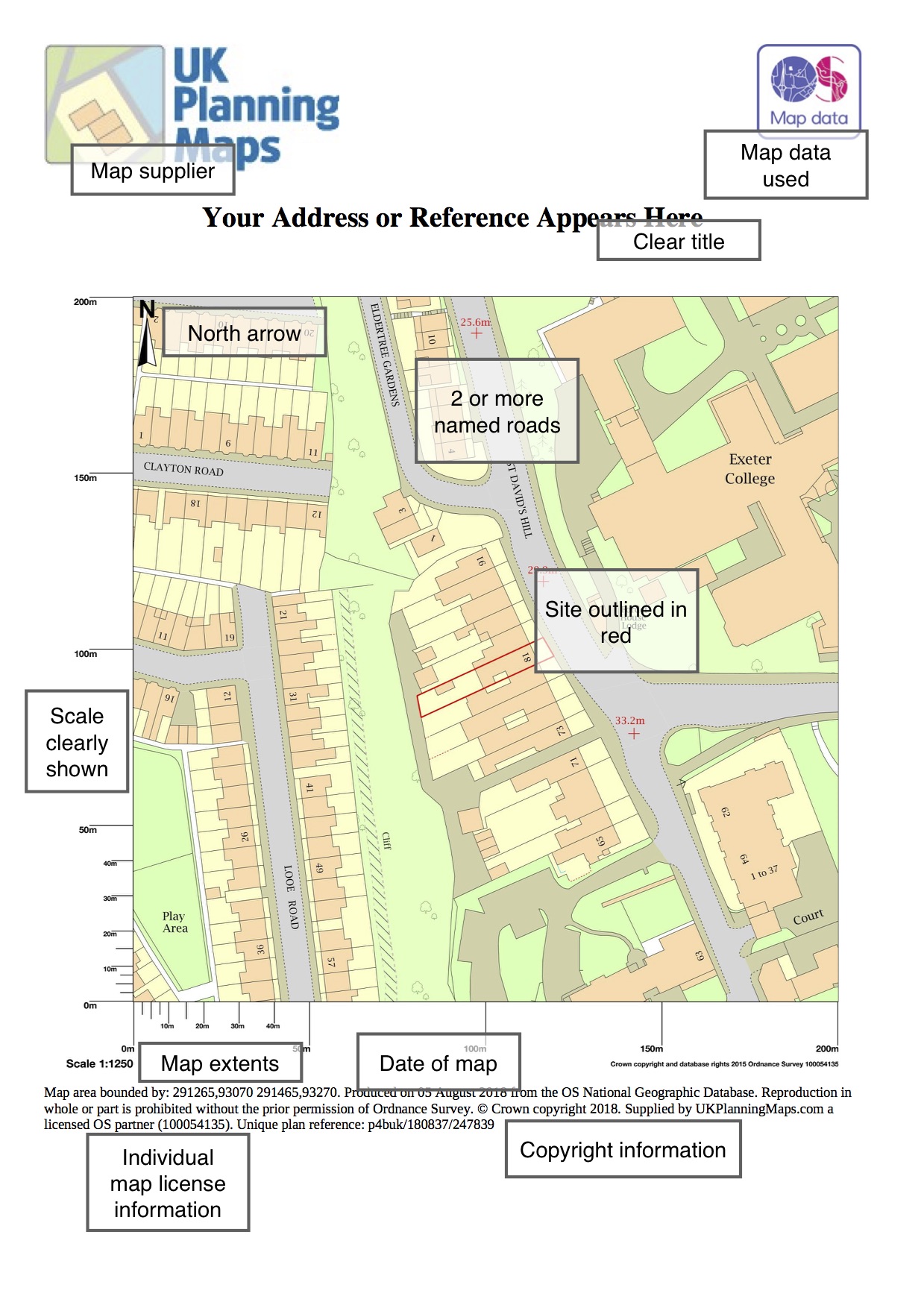 Where can you get more help?
Our Guide to the Planning Process
What is a Site Plan or Block Plan